Directed by Heidi Ewing and Rachel Grady
By ESPN Films | Aug 26, 2013
Film summary
Sports is supposed to be the ultimate level playing field, but in the media and on Madison Avenue, sometimes looks matter more than accomplishments. This film explores the double standard placed on female athletes to be the best players on the field and the sexiest off of it. Through stories of the women who have faced and tackled this question in very different ways, "Branded" explores the question: can women's sports ever gain an equal footing with their male counterparts, or will sex appeal always override achievement?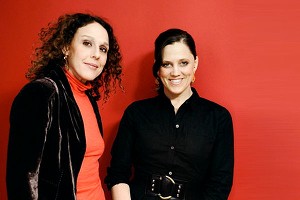 Directors' bios: Heidi Ewing and Rachel Grady
Heidi Ewing and Rachel Grady are Academy Award-nominated filmmakers who have been lauded for gaining unprecedented access into unknown worlds and for their intimate approach to subject matter.
In 2007, Ewing and Grady released "Jesus Camp," a candid look at the new generation of the Christian right. It was nominated for an Oscar for best documentary film. Their new film "Detropia" is a cinematic tapestry that looks at Detroit as America's "canary in the coal mine." The film premiered at the 2012 Sundance Film Festival and won a best editing award. It opened nationwide in September 2012.
In 2010, they also debuted their Peabody Award-winning documentary "12th & Delaware" at Sundance. The work, a collaboration with HBO, was described by the Los Angeles Times as "the finest documentary film ever made about the abortion issue." Previously, the team was nominated for an Emmy for "The Boys of Baraka," a film about preteens struggling to make it in Baltimore. They recently co-directed an adaptation of "Freakonomics" for the big screen, as well as a rare documentary on Saudi Arabian teenagers for the MTV Network.
Ewing and Grady are the co-owners of Loki Films, based in New York City.
Ewing and Grady: Personal statement
When we were small girls growing up in Michigan and Washington, D.C., women's sports would really come to our attention only every four years during Olympic coverage. During the Summer Games, women's gymnastics were suddenly the rage, Olga Korbut and Nadia Comaneci bringing with them an intriguing aura of the severe Eastern-bloc training regime.
We were transfixed by their beautiful and muscular physiques, and often unsmiling faces. When it was the Winter Olympics' turn, figure skating took over as the female sport du jour — briefly embraced by the American public who obsessed over Oksana Baiul and Katarina Witt as they dramatically stormed the Games, won gold and then faded away for another four years.
Today, a handful of women in sports loom large in our culture, and the marketing of these female athletes is big business. The Williams sisters are a powerhouse and veritable brand. Two of the most popular names in sports — tennis star Anna Kournikova and auto racer Danica Patrick — have worked in equal parts talent and sex appeal, and turned them into lucrative sponsorship opportunities.
Progress? Sure. But clearly, winning or being the best is not enough for a woman to rise to the top of the high-stakes world of sports marketing. We will take a look deep inside what it takes for a woman today to make it as an international sports icon.
Join the conversation and tweet your thoughts about "Branded" to #NineforIX.
Related Articles
Sex Sells
Branded: Director's Moment Nine for iX Exclusive Tip
Branded: Your Reaction